Are you a fan of retro gaming? Just imagine having all your favourite games, from all the greatest consoles and computers wrapped up in one easy to use package! Well imagine no more, because you're a lucky ducky, and today your wish has come true!
WELCOME TO THE EMULATION STATION!
This specially designed system started out as an Xbox but has now been customised to the max, and reborn as "The Emulation Station!" It provides you with ALL your retro gaming needs, from the earliest years of Atari, Spectrum, Commodore 64 etc, through to the latest in retro gaming such as Sega Megadrive, Super Nintendo and of course the Xbox itself, its all here!
The Emulation Station packs in over 20 consoles and TENS OF THOUSANDS of ROMS, OVER 65GB worth of gaming in fact, that's enough to keep any retro gamer happy for many years! Each console has its own custom, easy to use menu so you can get gaming straight away. All of the emulated consoles/computers and ROMS are already installed on the upgraded hard drive, therefore providing you with continuous gaming without the need to swap discs each and every time you want to play a different console.
Amazingly, the Emulation Station has many more tricks up its sleeve, such as various video\audio file playback (including DVD, AVI & MP3), stores all your video\music libraries, many online features!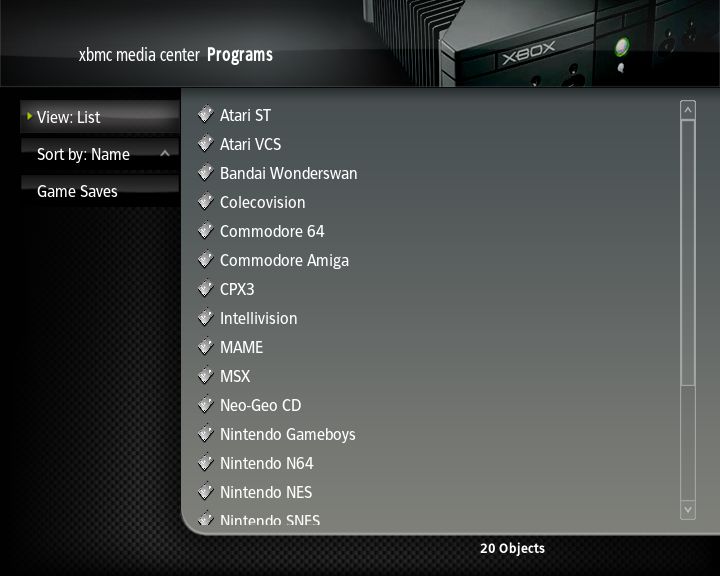 RETRO HEAVEN RIGHT THERE! With a choice of over 54'000 ROM's you'll never be stuck for something to do ever again!
Below is a run down of emulated consoles/computers and number of ROM's included....
| | |
| --- | --- |
| ATARI ST - 2,241 ROM's Included! | ATARI VCS - 477 ROM's Included! |
| BANDAI WONDER SWAN - 275 ROM's Included! | COLECOVISION - 155 ROM's Included! |
| COMMODORE 64 - 6001 ROM's Included! | COMMODORE AMIGA - 3241 ROM's Included! |
| CPS3 - 7 ROM's Included! | INTELLIVISION - 268 ROM's Included! |
| M.A.M.E - 7064 ROM's Included! | MSX - 678 ROM's Included! |
| NEO-GEO CD - 97 ROM's Included! | GAMEBOY ADVANCE - 256 ROM's Included |
| GAMEBOY COLOUR - 1211 ROM's Included! | NINTENDO GAMEBOY - 6097 ROM's Included! |
| NINTENDO N64 - 467 ROM's Included! | NINTENDO NES - 731 ROM's Included! |
| NINTENDO SNES - 3792 ROM's Included! | PC ENGINE - 1566 ROM's Included! |
| SEGA MASTER SYSTEM - 1026 ROM's Included! | SEGA MEGADRIVE - 6316 ROM's Included! |
| SINCLAIR ZX SPECTRUM - 12951 ROM's Included! | MICROSOFT XBOX - 5 Classics Included |
So in summary you will receive the following...
OVER 54'000 FULL ROM'S SPREAD OVER 22 COMPUTER/CONSOLES!
1x Refurbished Xbox (PAL) 'Emulation Station' with upgrade hard drive
1x Controller
1x Set of necessary power/video leads
1x More fun than you can shake a stick at!
This console will be packed securely, bubble wrapped, boxed and dispatched via fully insured and tracked courier. Ships worldwide with free UK delivery!
NON-EUROPEAN CUSTOMERS: As this is a PAL Xbox, it uses 240v power, so you will need a power converter in order for this Xbox to work in your country. Example: For use in the USA, you would need a 'Step up power convertor'. Please confirm you understand this when you make your purchase, as your order will not be dispatched until confirmation has been received. Any question, please ask BEFORE you purchase.
The Emulation Station - 54'000 Games!
Brands Microsoft
Product Code: XBMC
Availability: In Stock